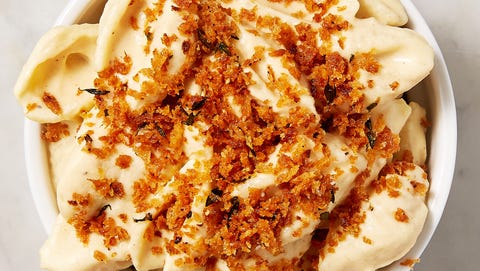 Delicious vegan mac & cheese might sound like an oxymoron, but trust us, it CAN be done. Read on to learn why this cheese sauce is good enough to satiate the strongest dairy craving.
• How you boil the noodles is SUPER important. You've heard it all before: boil in a big pot of salted water until al dente. This is especially important for mac & cheese (vegan or otherwise) because the noodles will absorb moisture from the cheese sauce as it sits. Having your pasta cooked al dente is CRUCIAL to a mac with just the right amount of bite. 
• To replicate that cheesy flavor, you need some funk. Good hard cheese is often aged and has a briny, complex funk. What, in the plant world, can we turn to for said funk? Sauerkraut! It sounds crazy, but just trust us on this one—it brings that cheesy je ne sais quoi that makes this sauce irresistible.
• Nutritional yeast is your best friend. If you're vegan, you probably know ALL about nutritional yeast. With a slightly nutty, cheesy flavor, it's a no-brainer for mac & cheese. 
• You need a solid food processor or blender. Cheese sauce NEEDS to be smooth. At least, it's a much more pleasant experience when it is. A good powerful food processor (or blender, we love our Vitamix) will insure your sauce is silky-smooth.
• Crunch is key. I've tried baking this mac, and it's a no go. But that doesn't mean you have to skip the delicious bread crumb topping! Toasting panko in a skillet with some olive oil and fresh thyme produces some seriously addictive bread crumbs—the perfect topping for extra-creamy mac.
Made it? Let us know how it went in the comment section below!
Want more vegan recipes? Check out our new vegan dinners cookbook!

Advertisement – Continue Reading Below
Prep Time:

0

hours

15

min

Total Time:

0

hours

50

min
FOR PANKO TOPPING
2 tbsp.

extra virgin olive oil

1/2 c.

Panko bread crumbs 

2 tsp.

fresh thyme leaves

Kosher salt 

Freshly ground black pepper
FOR MAC & CHEESE
1 lb.

medium shells 

1 tbsp.

refined coconut oil or vegetable oil

1

white onion, chopped (about 1 1/2 cups)

1/2

medium yellow pepper, chopped (about 1 cup)

1 tsp.

ground mustard

1 tsp.

ground cumin

1 1/2 c.

raw cashews

1

russet potato, peeled and cubed (about 2 cups)

3 1/2 c.

water

2/3 c.

sauerkraut, drained in a fine mesh sieve

3 tbsp.

nutritional yeast

1 tbsp.

white wine vinegar

1 tbsp.

hot sauce (such as Cholula)
Directions
Step 

1

In a large, salted pot of water, boil pasta until al dente, 9 to 10 minutes. Drain.

Step 

2

Meanwhile, make Panko topping: in a medium skillet over medium heat, heat olive oil. Add Panko and thyme, and season with salt and pepper. Cook, stirring occasionally, until Panko is golden. Transfer to a bowl to cool.

Step 

3

In a large pot over medium heat, heat coconut or vegetable oil. Add onion and pepper and cook until soft, 6 minutes. Season with salt and pepper, then stir in mustard and cumin and cook until fragrant, 1 to 2 minutes more.  Add cashews, potatoes, and water and bring to a boil. Boil until potatoes are tender, 6 to 7 minutes.

Step 

4

When potatoes are tender, transfer mixture in pot to a blender or food processor, and puree until smooth. Add sauerkraut, nutritional yeast, white wine vinegar, and hot sauce. Puree again until smooth, then taste and season with salt and pepper if needed.

Step 

5

Combine cooked pasta and cheese sauce in a large bowl and stir to combine. Top with Panko mixture and serve.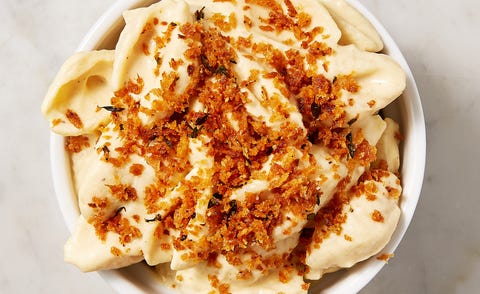 Parker Feierbach
Lena Abraham is the Senior Food Editor at Delish, where she develops and styles recipes for video and photo, and also stays on top of current food trends. She's been working in the food industry for over 10 years, and will argue that the best fish tacos in the world are made in New York. Don't @ her.
This content is imported from OpenWeb. You may be able to find the same content in another format, or you may be able to find more information, at their web site.
Advertisement – Continue Reading Below
Advertisement – Continue Reading Below